When it's time to replace or repair your roof, choosing the right roofing material is essential. Especially when Florida's climate can be quite demanding on roofs, with its scorching sun, frequent rain, and the ever-looming threat of hurricanes.
Here, we'll discuss the top five roofing materials perfectly suited for Florida's climate, without using fancy words or jargon.
Roofing Material #1:
Asphalt Shingle – Affordable and Reliable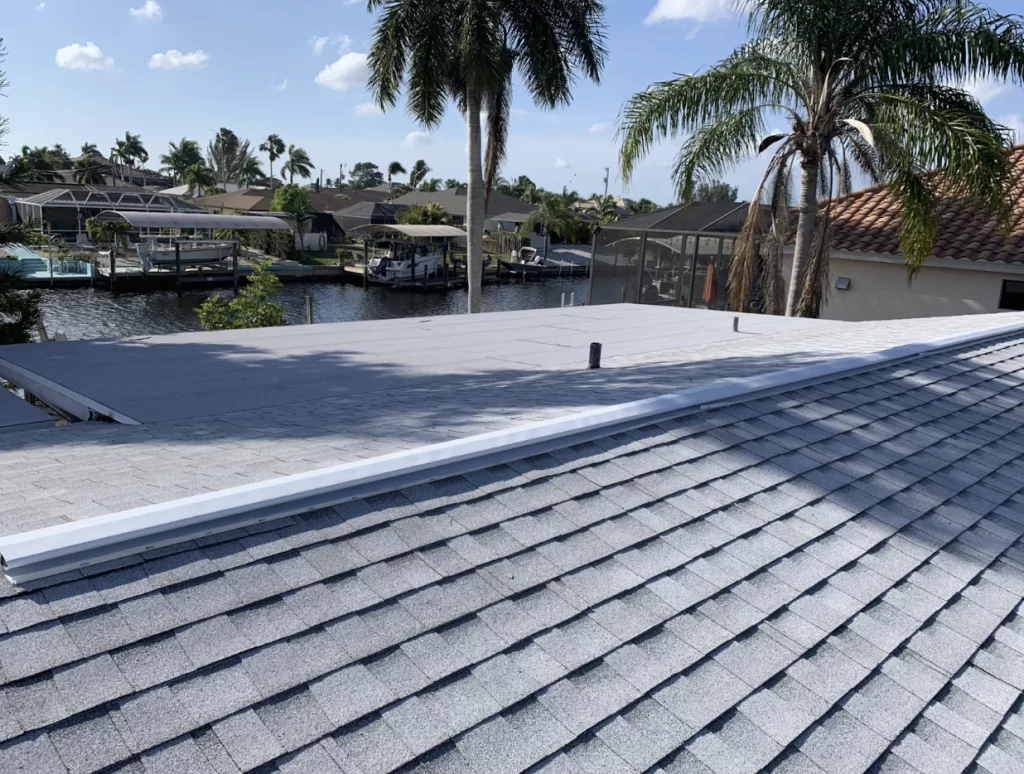 Image by Phoenix Contracting of SWFL, LLC. http://phoenixcontractingswfl.com/
Asphalt shingles are a popular roofing material choice for many Florida homeowners, mainly due to their affordability and reliability. These shingles can withstand Florida's hot and humid weather without breaking the bank. One brand you might consider is Tamko, known for its quality shingles.
Tamko offers a variety of shingle options to suit your budget and style. You can visit their website to explore their range and get a quote. Just make sure to check their website, which is an excellent way to gather more information and make an informed decision for your roofing material needs.
Roofing Material #2:
Metal Roof – Hurricane-Resistant and Low Maintenance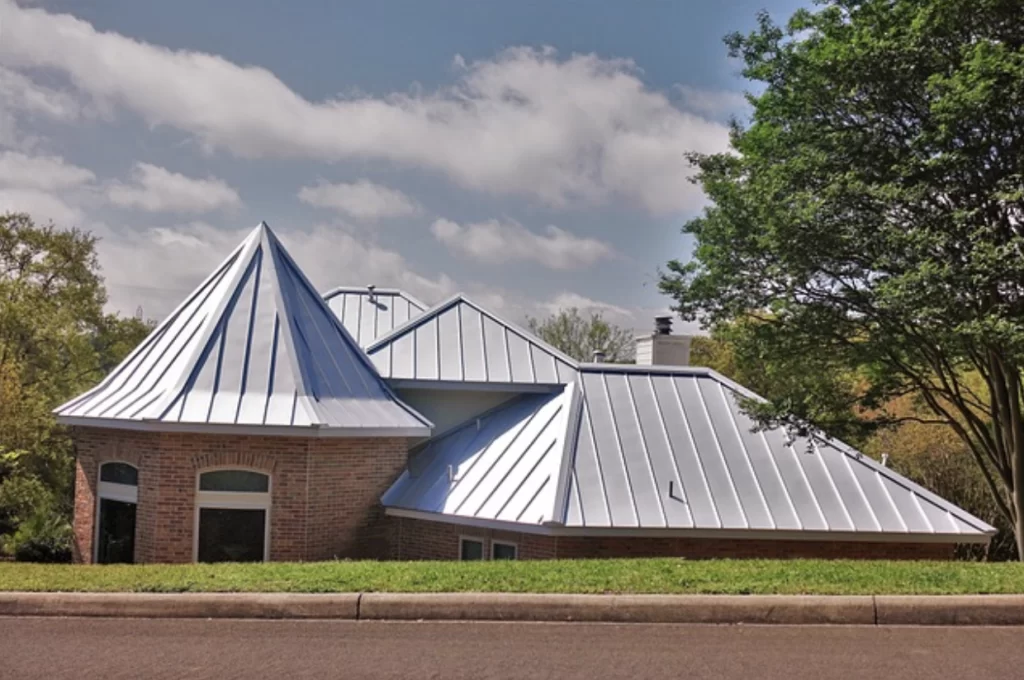 Image by: GeorgeB2 https://pixabay.com/photos/architecture-building-roof-unusual-3320462/
When it comes to hurricane-prone areas like Florida, metal as a roofing material is a top choice. It's incredibly durable and can endure the harshest weather conditions. Plus, metal roofs require little to no maintenance, which can be a real relief for homeowners.
Metal roofing, especially the standing seam style, is an ideal choice for hurricane-prone regions due to its exceptional durability and resistance to high winds.
It requires minimal maintenance, offers customization options, boasts a long lifespan, and is energy-efficient. When opting for a custom-made metal roof without brand affiliations, you can enjoy a tailored and dependable roofing solution for your home or commercial property.
The best style of metal roofing material for Florida's climate is the standing seam design. While there aren't specific brands to mention, many companies customize metal roofs according to your preferences. This ensures that your roof will be a perfect fit for your home.
Roofing Material #3:
Tile Roof – Aesthetic Appeal and Cooling Benefits
Image by Phoenix Contracting of SWFL, LLC. http://phoenixcontractingswfl.com/
Tile roofing not only adds a touch of aesthetic charm to your home but also provides practical benefits. In Florida, where temperatures can soar, tile roofs help keep your home cooler due to their natural insulation properties. Crown Roofing Tiles is a local brand that offers various tile options suitable for Florida's climate.
This roofing material offers a range of aesthetic benefits that make it a popular choice among homeowners. The tiles' distinctive, timeless appearance enhances the curb appeal of any property. Additionally, they come in various styles and colors, allowing for customization to match your architectural preferences.
Beyond their visual appeal, tile roofs are known for their ability to naturally cool the roof, providing energy-efficient benefits by reducing the transfer of heat into the building. This dual advantage of aesthetics and cooling makes tile roofing an attractive option for many.
You can explore the Crown Roofing Tiles website to find the perfect style and color for your home. Just double-check that you're on the right website to get accurate information and make an informed choice.
#4: Flat Roof Option 1 – TPO (Thermoplastic Polyolefin)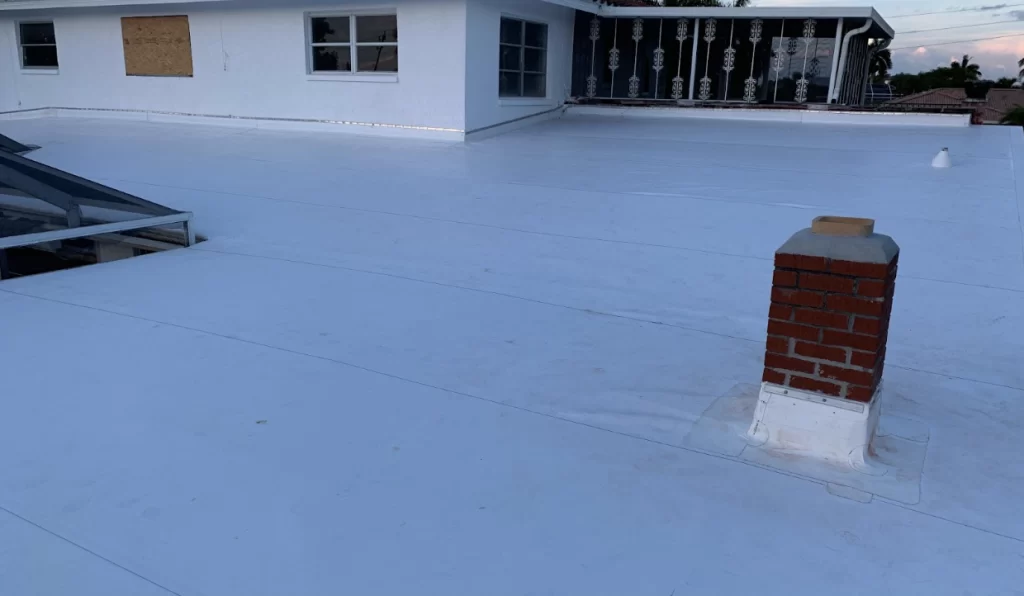 Image by Phoenix Contracting of SWFL, LLC. http://phoenixcontractingswfl.com/
For flat roofs in Florida, TPO (Thermoplastic Polyolefin) is an excellent choice. TPO is a type of rubber-like roofing material that is actually made of PVC, forming a single-ply membrane system. It offers superior resistance to heat and UV rays, making it ideal for Florida's sunny weather. This roofing material is durable and can handle the occasional heavy rain without trouble.
TPO roofs are energy-efficient, as they reflect sunlight and heat, helping to keep your home cooler during hot Florida summers. Plus, they are quite affordable, making them a practical choice for many homeowners.
#5: Flat Roof Option 2 – Modified Bitumen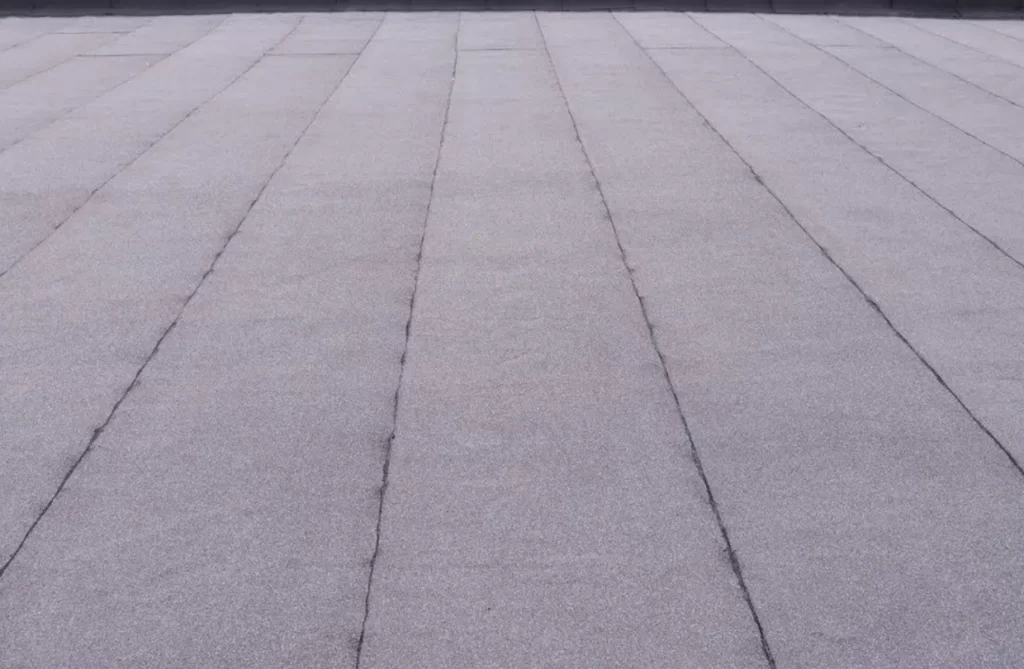 Image by: Waypoint Property Inspection, LLC. https://waypointinspection.com/how-long-flat-modified-bitumen-roof-last/
Another suitable option for flat roofs is modified bitumen, often referred to as a rolled asphalt shingle.
Its long lifespan and robust construction make it an excellent option for homeowners seeking a reliable and long-lasting roofing solution. So, while it may be most commonly associated with commercial properties, Modified Bitumen roofing can certainly serve as a dependable choice for residential roofs as well.
This material forms a two-ply roof system, providing extra protection against the elements. Modified bitumen roofs are designed to withstand Florida's weather conditions, including heavy rain and strong winds.
While this material might not be as visually appealing as some other options, it gets the job done in terms of durability and protection. It's a reliable choice for flat roofs in Florida.
PRO TIP:
Both TPO and Modified Bitumen roofing are versatile and durable options that are commonly used in commercial buildings. However, it's important to note that they can also be a highly beneficial choice for residential flat roofs.
Conclusion
Choosing the right roofing material for Florida's climate is crucial for your home's protection and comfort. Asphalt shingles offer affordability and reliability, with brands like Tamko providing excellent options. Metal roofs are your best bet for hurricane resistance and minimal maintenance, with customization available from various companies.
Tile roofs not only enhance the aesthetic appeal of your home but also provide cooling benefits. Local brands like Crown Roofing Tiles can offer you a wide range of tile options. For flat roofs, consider TPO for its energy efficiency and durability or modified bitumen for its reliability.
Before making a decision, we encourage you to visit our website to gather more information and obtain quotes. This will help you make an informed choice and ensure your roof is well-prepared to face Florida's challenging climate.